When:
January 26, 2019 @ 10:00 am – 12:00 pm
2019-01-26T10:00:00-05:00
2019-01-26T12:00:00-05:00
---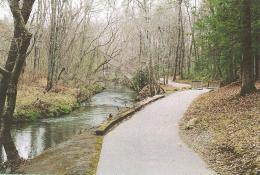 The Obed Watershed Community Association is hosting an event, "Identifying Trees In Winter" on Saturday, January 26 from 10 to 12 a.m. CST.
Jimmy Groton will be walking with us while showing us how to identify trees in winter. This event is at Obed River Park 10-12am January 26. (The rain date is February 9th 10-12am.)
Jimmy studied forestry as a graduate and undergraduate in college and taught Dendrology in graduate school at UTK. He works as an environmental scientist/ecologist delineating wetlands and streams, endangered and threatened species surveys, and environmental impact assessment. He has 39 years experience and we welcome us to show us a thing or two about identifying native plants in the winter!
Bring a hand lens if you have one, we'll have a few on hand. Sometimes it's good to see twigs and bark up close!
About Obed River Park from http://time2meet.com/crossvilletrails/obed This existing trail is a two-mile-long paved walk and follows a portion of the Obed River for over half its length. In addition to viewing the labeled trees, visitors can view the Tennessee Central Railroad trestle and Harrison and Mitchell dam historic sites, as well as rock formations, foot bridges, wild flowers and wildlife.
A Class I Arboretum is featured along the course of the paved Obed River Trail adjacent to the Obed River. The arboretum includes many native species of trees that have identification markers. A paved surface multi-use trail is for public use by non-motorized traffic: walkers, runners, roller-blade enthusiasts and bicycle riders.
The trail originates at the Cumberland County Obed River Park, a county owned park facility that features three picnic shelters, restrooms, and a playground. On the trail, a visitor passes two foot bridges, two historical markers, views the scenic Obed River and experiences a large number of native Cumberland Plateau plants, trees, and wildflowers. The trail gradually climbs to a large rolling meadow that has a segment of an abandoned railway corridor and the ruins of one of Cumberland County's first dams. The around the meadow has been turned into a fitness trail with numerous pieces of exercise equipment. http://time2meet.com/crossvilletrails/obed.shtml?fbclid=IwAR3gePELqHM7zYhfJQxQka8tr6WauyJwAp_6-yG0T2dRPsI_fBmTJHBZXbI
Event co-sponsored by TCWP and Emory River Watershed Association
For additional information, contact Jimmy Groton at 865-805-9908 or at  groton87@comcast.net.