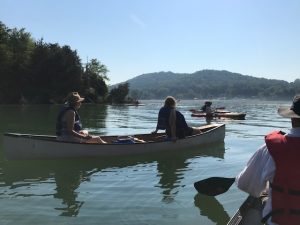 We had 10 paddlers participate in a canoe/kayak float trip around the Freels Bend of the Three Bends "Wild Area" on Melton Hill Lake.  After an interesting start in amongst very fast model speedboats, we kept toward the undeveloped side of the lake and explored several quiet inlets lined by nice shady forests (and unfortunately a few invasives).
The weather was lovely with sunshine and a few lingering mists.   Several nesting ospreys were seen including one successful nab of a fish right over from the canoe and one entertaining swallow that dropped and caught a feather several times as it floated down toward the water.  Other birds included cormorants, blue heron and ducks. Reptiles included many turtles and snakes.
One of the osprey nesting pairs is guarding the old historic Freels Cabin which we enjoyed from the distance. Some of the old UT Farm fields being maintained open by TWRA were visible from the boats.  There were also a few fence posts coming out of the water, mementoes of the cows that were studied in the early days of atomic research. The take out point was at Clark Center Park boat ramp
A nice quiet trip to enjoy one of our local treasures!
(Tim Bigelow)