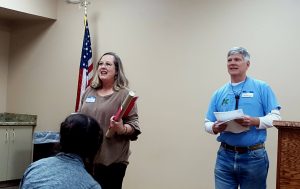 On October 27, 2018, more than 30 people turned out for our 52nd annual meeting, held this year at the Fairfield Glade Library near Crossville. Tennessee Department of Environment and Conservation Commissioner Dr. Shari Meghreblian was our keynote speaker.
Dr. Meghreblian, who was named TDEC Commissioner in 2017, outlined her career in environmental science and noted that in her current position she tries to take a pragmatic, science-based approach and to be transparent. She described the Tennessee H2O Water Plan—a draft plan comprising an assessment of water resources and recommendations to help ensure Tennessee has an abundance of water resources to support future population and economic growth—and a variety of issues important to East Tennessee, including coal mining primacy, the proposed landfill on the DOE Reservation, and land conservation.
The talk was followed by our annual business meeting, required by our by-laws. After the election of 2019 board members and officers, TCWP President Mark Bevelhimer presented a "State of TCWP" report, reflecting on the past year and  service activities, outings and programs, land acquisition successes, and long-term projects that came to fruition. These included:
•  TCWP will have sponsored or cosponsored 23 events in 2018.
•  Four properties in the boundaries of the Obed Wild and Scenic River were transferred to the NPS, thanks to TCWP,
•  Years-long efforts by TCWP and sister groups paid off when Congress appropriated $810,000 for land acquisition for  the Obed WSR and $217,000 for the Big South Fork NRRA.
•  The so-called "Road to Nowhere," a long time threat to the north shore of Fontana Lake, was put to rest with a final Congressional appropriation to settle with Swain County, North Carolina.
During a break, one of our members also presented Lee Russel with of copy of a recent "ORNL Review" that featured the years of research conducted by Lee and her husband Bill at ORNL.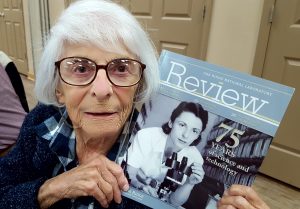 After a buffet lunch from Mediterranean Delight in Oak Ridge, many attendees participated in one of two afternoon hikes: an easy outing on the Library Trail, led by Larry Pounds, or a more difficult hike on the Hemlock-Good Samaritan-Rotherham Loop, led by Jan Lyons.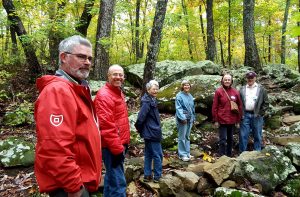 Hope we see you at our 2019 Annual Meeting!
Watch the "Upcoming Events" page on the website for more details.
(photos courtesy of Nancy Cosgrove)