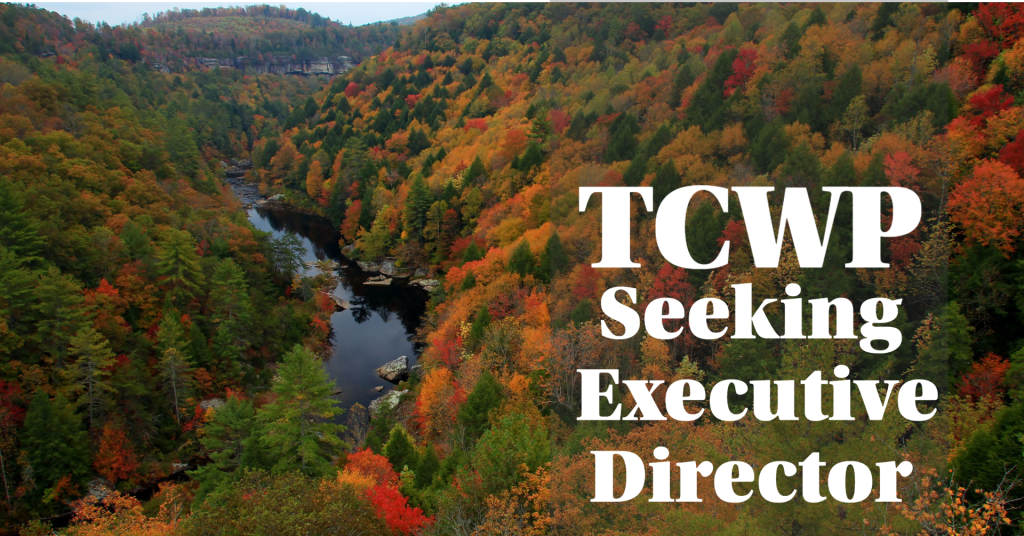 Longtime and beloved TCWP Executive Director Sandra Goss is retiring soon, and we are seeking her replacement. Please pass this job posting on to anyone that you think might be interested.
We are a not-for-profit, membership organization based in Oak Ridge. Our mission is to preserve wild places and waters through protection, advocacy, stewardship, and education. See our website (TCWP.org) or Facebook page for more information.
We are currently seeking an Executive Director for a full-time 40 hour/week, permanent position. Reporting to the Board of Directors, the Executive Director will have overall strategic and operational responsibility for TCWP's staff, programs, expansion, and execution of its mission. Because attendance at in-person meetings is normally required, residence in the Knoxville/Oak Ridge area is preferred. Office space rented by TCWP is available in Oak Ridge for daily work if desired.
Responsibilities for the successful candidate include:
Ensure ongoing local programmatic excellence, rigorous program evaluation, and consistent quality of finance and administration, fundraising, communications, and systems; recommend timelines and resources needed to achieve the strategic goals
Actively engage and energize TCWP volunteers, board members, event committees, partnering organizations, and funders
Develop, maintain, and support a strong Board of Directors; serve as ex-officio of each committee; seek and build board involvement with strategic direction for addressing local, regional, and national environmental conservation issues
Oversee production of every-other-month TCWP Newsletter (includes writing articles, recruiting volunteers to write articles, proofreading, printer, and distribution) and social media content
Monitor ongoing and identify new issues of importance to TCWP. For example, an ongoing issue is Obed Wild and Scenic River land acquisition
Network with sister organizations and attend strategy meetings as appropriate, including Advocates For the Oak Ridge Reservation, SOCM, NPCA
Direct TCWP interactions with various state and federal agencies, such as the National Park Service, Tennessee Wildlife Resources Agency, and Tennessee Department of Conservation
Lead fundraising efforts, e.g., member dues and donations, legacy gifts, grant applications, etc.
Direct one part time staff
Develop effective membership retention and recruitment activities
Qualifications
Commitment to environmental issues with knowledge of and ability to execute citizen involvement
Well-organized, highly-motivated, with excellent communication (oral, written, and listening) skills and ability to work with people with diverse interests
Past success working with a Board of Directors with the ability to cultivate existing board member relationships
Strong marketing, public relations, and fundraising experience with the ability to engage a wide range of stakeholders and cultures
Able to attend occasional events on weekday evenings and Saturdays.
Salary Range: $50,000-$60,000 (plus benefits) depending on experience, etc.
Job Type: Full-time
To Apply: If interested in this position, please email a cover letter and resume to the TCWP Board at TCWP.contact+apply@gmail.com. We are hoping to fill this position as soon as possible.