---
Alley Ford Cumberland Trail Workday – Saturday, February 16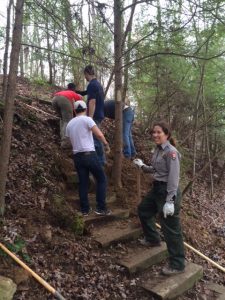 A day of trail work and hiking will take place on the 2.5-mile section of the Cumberland Trail at the Obed Wild and Scenic River between Nemo Picnic Area and Alley Ford adopted by TCWP in 1998. Participants should dress appropriately for winter weather, wear sturdy shoes or boots, and bring work gloves, loppers, small bow saws or folding saws, shovels and grubbing tools, as well as a lunch and plenty of water. Some tools will be available at the event.
Participants can meet for carpooling in Oak Ridge at the Gold's Gym/Books-A-Million parking lot (meet at the end
close to S. Illinois Avenue, near Salsarita's) in time to leave Oak Ridge at 9 a.m. EST, or can join the crew at Nemo Picnic Area or Rock Creek Campground at 10 a.m. We expect to return to the trailhead by around 3 p.m. (NOTE: If the weather is uncooperative–excessive rain or snow and ice— we will reschedule for February 23.) Participants will need to sign a National Park Service volunteer form (parent's or guardian's signature required for minors).
Forms can be requested in advance from TCWP; NPS representatives will also have forms available at the event.
For additional information, contact Jimmy Groton at 865-805-9908 or at  groton87@comcast.net.
---
Spring Cedar Barren Weed Wrangle® – Saturday, March 2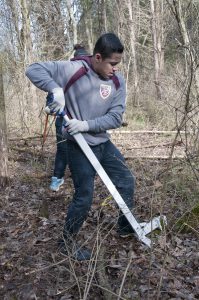 We will conduct our spring invasive plant removal at the Oak Ridge Cedar Barren on March 2 as an official Weed Wrangle ®, an invasive plant removal project coordinated by The Garden Club of Nashville and Invasive Plant Control, Inc. This is the third year TCWP has been a partner in this program. The Barren, a Tennessee State Natural Area, is located next to Jefferson Middle School in Oak Ridge. Its management is a joint project of the City of Oak Ridge, TN Division of Natural Areas, and TCWP. One of only a few cedar barrens in East Tennessee, the area is subject to invasion by Chinese lespedeza, Japanese privet, autumn olive, mimosa, Nepal grass, multiflora rose, and woody plants that threaten the system's prairie plants. Volunteers should meet at the Jefferson Middle School parking lot, next to the baseball field, at 9 a.m., with sturdy shoes or boots, loppers, hand saws, weather-appropriate clothing, snacks, and water. TCWP will provide other tools and work gloves. Our efforts will eliminate shade-producing plants, benefiting the native prairie plants and three species of rare plants. Volunteers will be treated to pizza following the event at around noon. The day's activities should conclude by 1 p.m.
For additional information, please contact Tim Bigelow, TCWP's Cedar Barrens steward, at (865) 607-6781 or at bigelowt2@mindspring.com.
---
Obed River Trash Collection from the Water – Saturday, March 30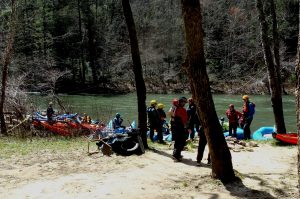 Boaters, particularly experienced whitewater kayakers and canoeists as support boaters, are encouraged to join TCWP, in cooperation with the National Park Service, for a whitewater clean-up trip down the Obed River on Saturday, March 30. The outing, from Devil's Breakfast Table to Nemo Bridge (water levels permitting), will include trash collection coordinated with the National Park Service, using garbage rafts to remove trash along the river.
TCWP has arranged for a limited number of seats on a privately-guided raft. Rafters must be 18 years old or over and have a moderately high level of physical fitness and stamina. The trip will include a portage over large boulders. The difficulty level of this outing is high, and participants are encouraged to consider carefully their fitness and stamina before undertaking this trip. Pre-registration for a raft seat by Sunday, March 24, is required. Weather and river conditions are unpredictable, and decisions about the nature of the trip will likely be made the evening before the event. If water levels do not permit collecting trash from the river, there will be mini-cleanups at various put-ins. A small number of wet suits are available to loan to participants, if needed. Participants should wear wicking-fabric (not cotton) clothes, and will need to bring lunch and water.
For more information or to pre-register, contact Sandra Goss at 865-583-3967 or via e-mail at Sandra@sandrakgoss.com. Participants will meet at 9 a.m. ET at the Obed Wild and Scenic River Visitors Center in Wartburg. A carpool will leave from Oak Ridge at around 8:15.
---
Garlic Mustard Pull Weed Wrangle®, Saturday, April 13
TCWP and Greenways Oak Ridge will have our Garlic Mustard Pull Weed Wrangle at the Wildflower Greenway in Oak Ridge from 10 to noon on Saturday, April 13.  (Details to follow)
---
Additional information on all TCWP activities may be obtained from TCWP Executive Director Sandra K. Goss at Sandra@sandrakgoss.com or at (865) 583-3967.
---