---
Kids in the Creek – Saturday, July 14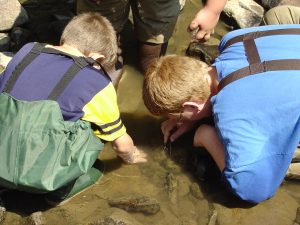 Looking for a fun and educational summertime activity for the kids? On July 14 TCWP, TVA, TWRA the Emory River Watershed Association and the Obed Watershed Association will co-sponsor a "Kids in the Creek" outing at Devils Breakfast Table on Daddy's Creek in Cumberland County, open to all kids who are rising third-graders or older. The event will start at 10 a.m. (Central time) with a welcome and safety talk, followed by two breakout sessions on fish and insects, and will conclude between 1:30 and 2:00.
Children must be accompanied by adults at all times; no unaccompanied minors will be permitted. Adults must be prepared to sign liability waivers on behalf of children. Participants should be prepared to get wet, and should wear shoes that are river-ready. Snacks/lunch are advisable, along with dry clothes, sunscreen, and bug spray.
Pre-registration is required for this event by Friday, July 6; to pre-register, contact TCWP Executive Director Sandra Goss at Sandra@sandrakgoss.com or at (865) 583-3967.
---
Discover Life in America Bioblitz at Worthington Cemetery – Saturday, July 14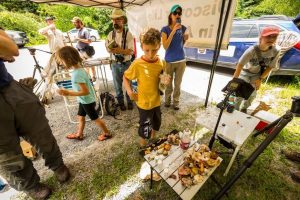 On July 14 TCWP will partner with TVA in a Discover Life in America (DLIA) "Bioblitz"at Worthington Cemetery in Oak Ridge. A BioBlitz is an event in which the public is invited to help with plant and animal identification. The event's organizer, Melinda Watson of TVA Natural Resources, said Worthington was selected because of its unique and varied habitats, including a cedar barren, native warm season grass meadow, hardwoods, marsh/swamp, hemlocks, etc.
Each participant needs to have access to a smartphone, tablet or a camera with GPS capability.  After downloading the iNaturalist app, participants will join the TVA/DLIA Worthington Cemetery online event (found in INaturalist using the search feature).  During the event participants will photograph plants, insects and other animals using their device.  The day of the event there will also be scientists available to help with species identification, confirm the plant or animal's name, and answer any questions. "This process gives TVA an idea of what plants and animals are in the area, and gives the general public the opportunity to be citizen scientists for the day," Watson said. "The really cool thing about a BioBlitz is that you're not limited to the one day of the event; once you have the app, anytime you visit Worthington Cemetery you can upload photo observations – the on-line scientists will help you with identification."
Discover Life in America (DLIA), led by Executive Director Todd Witcher, is working with TVA to organize and host the event, and will have some specialists onsite to help with plant and animal identification. They will also provide butterfly nets, insect collection containers and other tools to make this a fun excursion for the family.
The BioBlitz will begin at 9 a.m. and will run through approximately 3 p.m. Participants are asked to bring a sack lunch.  For more information, contact Todd Witcher at todd@dlia.org.
---
Additional information on all TCWP activities may be obtained from TCWP Executive Director Sandra K. Goss at Sandra@sandrakgoss.com or at (865) 583-3967.
---