---
TCWP Holiday Party – Thursday, December 13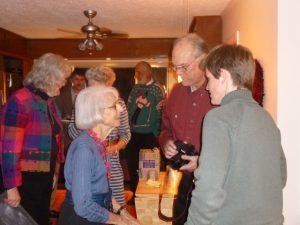 This annual event, one of our most popular of the year, will once again be held at the home of Jenny Freeman and Bill Allen, 371 East Drive, Oak Ridge.
All members and friends are welcome!  The hours are 7 – 9:30 p.m.  Please bring an hors d'oeuvre or dessert to share; beverages will be provided.
---
Whites Creek Trail workday – Saturday, January 12
TCWP will sponsor a day of trail maintenance work at Whites Creek Small Wild Area in Rhea County at 10 a.m. as part of our ongoing stewardship activities for this TVA Small Wild Area trail. The trail loops onto land that TCWP purchased from Bowater several years ago, thanks to the generous support of our members.
Participants should wear sturdy shoes or boots and bring work gloves, loppers, and small bow saws or folding saws.  Some hand tools will be available at the event.  Please be sure to bring clothing appropriate for weather conditions, water, snacks, and/or a lunch.
Participants can meet for carpooling in Oak Ridge at the Gold's Gym/Books-A-Million parking lot in Oak Ridge (at the end close to S. Illinois Avenue, near Salsarita's). We will leave Oak Ridge at 9 a.m., or volunteers can join the crew at the trailhead at 10 a.m. [NOTE: Carpooling is important this year because Roddy Lane, the road that leads to the Whites Creek parking area from the highway, is currently closed, and parking is much more limited than usual.]
We plan to spend three or four hours at the site, but volunteers may come and go as they wish.  If the weather is uncooperative—excessive rain, or snow and ice—we will reschedule for the following Saturday.
For additional information, contact Jimmy Groton at 865-805-9908 or at  groton87@comcast.net.
---
Additional information on all TCWP activities may be obtained from TCWP Executive Director Sandra K. Goss at Sandra@sandrakgoss.com or at (865) 583-3967.
---