---
Information Program: "The Obed Wild and Scenic River: an International Dark Sky Park" – Thursday, August 1

The Obed WSR, a unit of the National Park Service, possesses an exceptional dark sky resource:  a night sky where visitors can still enjoy the splendor of the Milky Way and see a night sky strewn with thousands of stars, visible with the naked eye.  On August 1, Obed Interpretive Park Ranger Rick Ryan will discuss the park's Dark Sky Initiative in a TCWP-sponsored program scheduled for 7 p.m. in the Oak Ridge Civic Center Social Room.
Ryan, who came to the Obed in 2016,  serves as the lead ranger for all of the Obed's Night Sky programming and Dark Sky Park initiatives, which resulted in the WSR's certification as a Silver-Tier International Dark Sky Park in 2017. As part of the Dark Sky Initiative, the Obed offers night sky interpretive programs to provide visitors with an in-depth look into the night sky while promoting its importance as a global resource. With an overall goal of promoting education and stewardship for night sky resources, the park's interpretive programs include an emphasis on preserving dark sky conditions for present and future generations.
---
"Kids in the Creek" Event – Saturday, August 10
(Contributed by Belinda Woodiel-Brill, Emory River Watershed Association )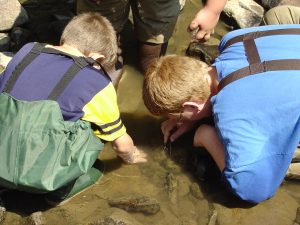 August means warm weather perfect for swimming, but it also means school's back in session.  Emory River Watershed Association (ERWA) and TCWP are offering the perfect transition back to school: a chance to get in the water with hands-on learning about aquatic life.  The "Kids in the Creek" event will showcase aquatic life in the Obed River on Saturday, August 10, in Morgan County.
Attendees will meet at the Morgan County Visitor Center on Highway 62 in Wartburg at 9 a.m. to carpool to the site.  A team of professional aquatic experts from TVA will lead attendees through the various processes for monitoring aquatic life in a stream.  Kids can help search for aquatic invertebrates under rocks, identifying caddisfly and dragonfly larvae, before catching fish in a net and viewing them up close.  A picnic lunch will be provided, with the event ending around 1 pm.
"Kids in the Creek" is free and open to kids of all ages; parents are encouraged to attend as well.  It is recommended that participants bring water shoes, swimsuits, towel and sunscreen, as well as insect spray.  A snorkel and mask are also a great addition to the day.
Preregistration is encouraged, to help in planning lunches and transportation. To preregister or for more information, contact Jimmy Groton at groton87@comcast.net or at (865) 805-9908. Additional information is also available on the ERWA Facebook page.
The Emory River Watershed Association is a local nonprofit organization working to improve water quality and increase awareness of water quality in the Emory River Watershed.
---
Summer Cedar Barren Cleanup/Weed Wrangle® – Saturday, August 24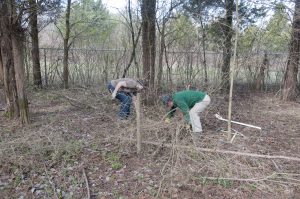 This will be the second of our three annual workdays at the Oak Ridge Cedar Barren. Located next to Jefferson Middle School in Oak Ridge, the barren is a joint project of the City of Oak Ridge, the State Natural Areas Division, and TCWP.  One of just a few cedar barrens in East Tennessee, the area is subject to invasion by Chinese lespedeza, Japanese privet, autumn olive, mimosa, Nepal grass, multiflora rose, and woody plants that threaten the system's prairie grasses.  Our spring, summer, and fall cleanups help to eliminate invasives and other shade-producing plants that prevent the prairie grasses from getting needed sun. The late-summer workday is optimum for viewing prairie wildflowers that flourish at the barren.
Volunteers should meet in the Jefferson Middle School parking lot at 9 a.m.; wear sturdy shoes and bring loppers, gloves, and water.  The work session will conclude at noon with a pizza lunch. For additional information, contact Tim Bigelow at Bigelowt2@mindspring.com or at (865) 607-6781.
---
Bledsoe State Forest Fall Flowers – Saturday, September 7
(Contributed by Larry Pounds)
For this fourth joint outing of the year with the Tennessee Native Plant Society we will caravan from Crossville to the Bledsoe State Forest, then go to various sites on power line right-of-ways to see many species of aster, goldenrods and other fall flowers. The walks will be short, with a total distance of less than three miles.
We'll meet for carpooling in the Gold's Gym/Books-a-Million parking lot in Oak Ridge (at the end close to S. Illinois Avenue, near Salsarita's) at 9 a.m. Eastern time, or participants can meet the group at the Shell Station on the south side of the Peavine Road exit off I-40 in Crossville at 10 a.m. Eastern. Bring water, a lunch, and bug spray.
A call or email to hike leader Larry Pounds (865-705-8516, cell; or PoundsL471@aol.com) saying you are likely to come is appreciated. This helps with planning, and is an aid to contacting participants with any change of plans.
---
National Public Lands Day Cleanup at Worthington Cemetery – Saturday, September 28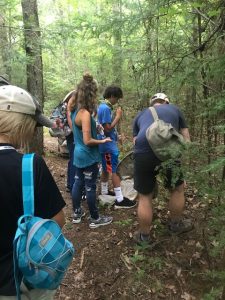 On September 28, TCWP and TVA will partner again for our annual National Public Lands Day (NPLD) celebration, to be held at TVA's Worthington Cemetery Ecological Study Area on Melton Hill Reservoir in Oak Ridge. A pizza lunch will follow our work session, which will begin at 9 a.m. and conclude around noon.
TCWP has for many years partnered with TVA to enhance and protect natural resources at Worthington Cemetery and other TVA lands throughout East Tennessee as part of our mutual stewardship efforts. Our yearly efforts in this area are helping to eradicate wisteria from the cemetery, and privet and other invasive exotics from the ESA.  Additional details regarding the cleanup will be provided in the September newsletter and via email alert.
---
Hike on Kirkland Creek Trail, Upper Bald River Wilderness – Sunday, October 6
(Contributed by Tim Bigelow)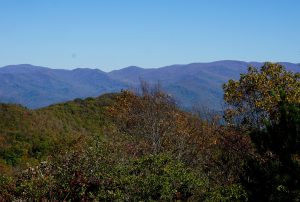 This hike follows a scenic creek through the middle of the newly-designated Upper Bald River Wilderness in the Cherokee National Forest. Join with hikers from Smoky Mountains Hiking Club and possibly the Harvey Broome Group of Sierra Club to celebrate this long-awaited addition to the designated wilderness system in the Tellico River watershed.  The trail has a gentle grade for the first several miles, then heads uphill toward the end, where it intersects with the Benton MacKaye trail near the NC state line.
We'll hike out and back up to eight miles; however, those wishing a shorter hike can turn around earlier. There will be several creek crossings including the Bald River which is gentle and shallow. Bring water shoes, or plan on just hiking with wet boots on a pleasant early-fall day. If water levels are high due to unseasonable fall rain, we'll consider an alternate nearby hike with fewer creek crossings. The trail has recently been maintained by the Cherokee Hiking Club trail volunteer group, so it should be quite open.
We'll meet for carpooling at 8 a.m. at Ruby Tuesday just off Exit 81 on I-75 south at Lenoir City.  We will also stop at Cherohala Skyway visitor center in Tellico Plains at about 9 a.m. The trailhead is another hour of scenic driving, the last five miles on a gravel road.
---
TCWP Annual Meeting – Saturday, October 12
Save the date! On October 12, Tennessee Commissioner of Environment and Conservation David Salyers will be the keynote speaker at our annual meeting, to be held at Cumberland Mountain State Park.
Additional details about the meeting will be provided in the September newsletter.
---
Additional information on all TCWP activities may be obtained from TCWP Executive Director Sandra K. Goss at Sandra@sandrakgoss.com or at (865) 583-3967.
---