---
Canoe Outing: Clark Center Park to Gallaher Bend – Saturday, July 20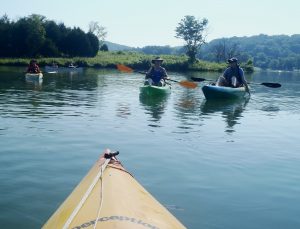 Please join TCWP and Advocates for the Oak Ridge Reservation on Saturday, July 20, for the third in a series of scenic paddle trips in the Three (Four) Bends "Blueway" along Melton Hill Lake. We'll meet at 9 a.m. at the boat launch area at Clark Center Park, and launch to paddle downstream on Melton Hill Lake along the shore of Gallaher Bend in the scenic Three Bends Area. We'll stop by to view Bull Bluff, a sand island, and will also enjoy several other quiet and scenic undeveloped inlets, probable wildlife sightings and much greenery. The trip will conclude back at the Clark Center Park boat launch area. Participants can bring their own canoes or kayaks, or TCWP is arranging to rent several canoes from River Sports for those who need one. Rental cost will be $25 per person with two per canoe. The number of available rental canoes (which come with paddles and life jackets) will be limited, so please register early for a spot. The trip is an easy paddle, and will take about two to three hours at a leisurely pace. Bring a lunch and water; sunscreen and a hat are recommended. Personal flotation devices (life jackets) must be worn, and all participants must sign a TCWP sign-in sheet.
Please pre-register with Sandra Goss at (865) 805-1470 or at sandra@sandragoss.com.
We are also planning canoe trips around Haw Ridge at a later date.
---
Lamar Alexander Rocky Fork SP Hike: Flint Creek and Whitehouse Cliffs trails – Saturday, July 27
Join  Tennessee Citizens for Wilderness Planning, Smoky Mountains Hiking Club, Tennessee Chapter Sierra Club, Defenders of Wildlife, Cherokee Forest Voices and local resident, John Beaudet, for a hike into the heart of one of Tennessee's newest state parks. Lamar Alexander Rocky Fork SP is situated on the TN – NC state line and surrounded by Cherokee National Forest The park was created with the help of a donation by the Conservation Fund, US Forest Service and most importantly the LWCF in 2006.
We plan to hike the Flint Creek trail along Flint Creek several miles into the interior. The trail passes the site of a 1789 battle between Gov John Sevier and the Cherokee.    We will return along Flint Creek back to another trail up to the top of Whitehouse cliffs and have a wonderful view of the wilderness-like park.   Those not wanting to make the steep climb can hike along the White Oak Flats trail and look for signs of possible impending road construction.
TDOT and TDEC recently started a project to add access roads and significantly develop the park.  There has been concern from TCWP and other sponsoring groups that the wilderness nature of the surroundings would be significantly impacted by the development of roads so work on the project is thought to have been slowed for further review.
Local resident, John Beaudet, will join us on the hike and share his knowledge of the park and of the state's plan for development of the park.
Hike a total of 6-8 miles or less depending on side trail options. Most of the trails, with the exception of the Whitehouse Cliffs trail, are relatively level and follow scenic creeks through valleys. Some side stream crossings are required and depending on rains could be more significant.  Water shoes and hiking poles could be helpful.
Meet at Comcast parking lot by 8:00 am on Asheville Hwy Exit 394 off I-40.  Drive 2hrs 15 minutes to the trailhead. Drive 200 miles round-trip. Contact Tim Bigelow, bigelowt2@mindspring.com, for more information.
---
Additional information on all TCWP activities may be obtained from TCWP Executive Director Sandra K. Goss at Sandra@sandrakgoss.com or at (865) 583-3967.
---