---
National Public Lands Day Cleanup / Weed Wrangle® at Worthington Cemetery –

Saturday, September 29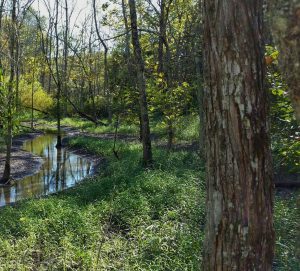 On  September 29, TCWP and TVA will partner again for our annual National Public Lands Day (NPLD) celebration, to be held at TVA's Worthington Cemetery Ecological Study Area on Melton Hill Reservoir in Oak Ridge. Joining us as cosponsor this year will be the Manhattan Project National Historic Park. A pizza lunch will follow our work session, which will begin at 9 a.m. and conclude around noon.
TCWP has for many years partnered with TVA to enhance and protect natural resources at Worthington Cemetery and other TVA lands throughout East Tennessee as part of our mutual stewardship efforts. Our yearly efforts in this area are helping to eradicate wisteria from the cemetery, and privet and other invasive exotics from the ESA. We'll meet for the cleanup at 9 a.m. at the Elza Gate Park picnic area near the intersection of Oak Ridge Turnpike and Melton Lake Drive. At the completion of our work (around noon), TCWP will provide a pizza lunch. Participants should wear sturdy shoes and weather-appropriate clothes, and bring water, gloves, and clippers, loppers, or bow or pruning saws, if possible. Other tools and equipment will also be available at the worksite. For more information, contact Jimmy Groton at (865) 805-9908 or at groton87@comcast.net.
---
Three Bends Canoe Outing – Saturday, October 6

Please join TCWP and AFORR on Saturday, October 6, for the first in a series of scenic paddle trips in the Three (Four) Bends "Blueway" along Melton Hill Lake. We'll meet at noon at Solway boat launch park (on Edgemoor Drive in Oak Ridge, across from Centennial Village Apartments) and paddle downstream on Melton Hill Lake along the shore of Solway Bend in the scenic Three Bends Area. We hope to enjoy several quiet and scenic undeveloped inlets, probable wildlife sightings, and much greenery. There may even be an historical building or two visible along the way.
Participants can bring their own canoes or kayaks; for those who need one, TCWP is arranging to rent several canoes from River Sports. Rental cost will be $25 per person, with two people per canoe. The number of available rental canoes (which come with paddles and life jackets) will be limited, so please register early for a spot. Personal flotation devices (life jackets) must be worn, and all participants must sign a TCWP sign-in sheet. Transportation back from the Pump House road inlet take-out spot to Solway Park will be provided. The trip is an easy paddle, and will take about two hours at a
leisurely pace. Bring a lunch and water; sunscreen and a hat are also recommended.
Please register by September 30 with Sandra Goss at 865-583-3967 or sandra@sandragoss.com.
---
Norris Watershed Hike – Saturday, October 20

The Norris Municipal Watershed, situated adjacent to Norris Dam State Park, is a 2,300-acre area that is the watershed of Clear Creek; it is managed for water quality protection, sustainable forest management, and public recreation. A network of about 30 miles of forest roads and single-track trails are managed by the Norris Watershed Board.
For this year's hike, we'll meet in front of Norris Middle School at 9 a.m. After a short stroll through downtown Norris to the Eric Harold Park, we will take a short trail to Hickory Trail Road, then hike Eagle Trail all the way to Observation Point. After climbing up to take in the view, we'll hike over to Deer Ridge Trail and then to Deer Ridge Road, where we will continue down by the elementary school, around the commons, and back up to the starting point. Much of Eagle Trail was constructed by the CCC in the mid 1930s, and a shelter was also constructed on Observation Point. The hike, which passes through some nice old forest, meanders down a hollow and travels along the contour above the Clinch River before climbing up a ridge. It is about four miles, with one climb of about a half- mile.
Participants can meet for carpooling in Oak Ridge in the Gold's Gym/Books-a-Million parking lot in Oak Ridge (at the end close to S. Illinois Avenue, near Salsarita's), to leave at 8:15 a.m.; or meet the group at Norris Middle School at 9 a.m. Wear sturdy shoes or boots, and bring water and snacks or a lunch. For more information, call Joe Feeman at (865) 457-8191.
---
TCWP Annual Meeting –

Saturday, October 27



Everyone is invited to TCWP's 52th Annual Meeting on Saturday, October 27, at the Library Building in Fairfield Glade, Cumberland County, Tennessee. Tennessee Department of Environment and Conservation Commissioner Shari Meghreblian will be the keynote speaker. Dr. Meghreblian, formerly Deputy Commissioner overseeing the department's environmental regulatory programs, was named to her current position in May of this year. Following her remarks, a business meeting to elect TCWP officers, and lunch, there will be a choice of hikes, one on Fairfield Glade property and one on a nearby segment of the Cumberland Trail.
Watch for a brochure coming soon with details about the meeting and how to register.
Details about the meeting are also provided in the September newsletter.
---
Fall Cedar Barren Cleanup/Weed Wrangle® – Saturday, November 3

The Oak Ridge Cedar Barren will again be the site of exotic invasive plant removal as we conduct our fall cleanup, our third and final cleanup of the year. Located next to Jefferson Middle School in Oak Ridge, the Barren is a joint project of the City of Oak Ridge, State Natural Areas Division, and TCWP.
The area is one of just a few cedar barrens in East Tennessee, and is subject to invasion by bushy lespedeza, leatherleaf viburnum, privet, autumn olive, mimosa, Nepal grass, multiflora rose, and woody plants that threaten the system's prairie grasses. Our efforts help to eliminate invasives and other shade-producing plants that prevent the prairie grasses from getting needed sunlight. Volunteers should meet in the Jefferson Middle School Parking lot at 9 a.m., with sturdy shoes, loppers, gloves, and water.
The work session will conclude at noon with a pizza lunch. For more information, contact Tim Bigelow at 865-607-6781 or Bigelowt2@mindspring.com
---
Additional information on all TCWP activities may be obtained from TCWP Executive Director Sandra K. Goss at Sandra@sandrakgoss.com or at (865) 583-3967.
---