---
Stinging Fork Falls to Soak Creek Wildflower Walk with TN Native Plant Society, Saturday, May 11
(photo courtesy of Ben Pounds)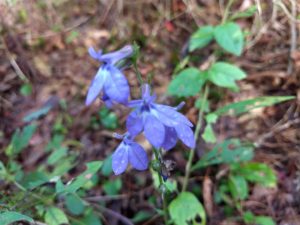 This section of the Cumberland Trail, completed in fall 2018, will be our third joint spring outing of TCWP and the Tennessee Native Plant Society. Which spring flowers we will see is hard to predict, but the route is definitely scenic. The trail is up and down, with many steps. Total walking distance will be about six miles.
We will meet for carpooling at 9 a.m. at the Gold's Gym/Books-A-Million parking lot in Oak Ridge (at the end close to S. Illinois Avenue, near Salsarita's), or meet at the Rocky Top/ Exxon/ MacDonald's on US 27  in Spring City at 10 a.m. We will caravan from the Exxon to the Lower Piney River Trailhead to start a shuttle, leaving some cars there. We'll then carpool to the Stinging Fork Falls Trailhead; from there we'll hike back to the Piney River Trailhead. Bring water, a lunch, and bug spray.
Alternatives: Participants are welcome to head back early to the Stinging Falls Fork Trailhead; they will need to have a car there, or otherwise will have a wait until afternoon when the shuttle is completed. Those taking this alternative could drive back from the Stinging Fork Trailhead to the Piney River Trail Head and walk in along the flat trail by Soak Creek to meet the rest of the group as they reach Soak Creek.
Reservations are not required, but are helpful for planning and for sending updates or cancelations. Contact Larry Pounds at 865-705-8516 (cell).
---
Freels Bend Canoe/Kayak Outing: Saturday, May 18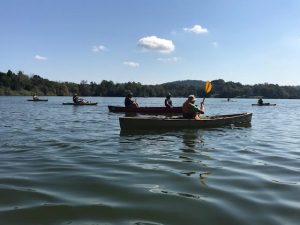 Join TCWP and Advocates for the Oak Ridge Reservation (AFORR) for this second in a series of scenic paddle trips in the Three (Four) Bends "Blueway" along Melton Hill Lake. We'll meet at 9 a.m. at the Pumphouse Road cove and paddle out and downstream on Melton Hill Lake, along the shore of Freels Bend in the scenic Three Bends Area.  We'll stop to view the historic Freels Bend cabin and also enjoy several other quiet and scenic undeveloped inlets, probable wildlife sightings, and much greenery.  The trip will end at the Clark Center Park boat launch area.  Transportation back to Pumphouse Road will be provided.
Participants can bring their own canoes or kayaks, or TCWP is arranging to rent several canoes from River Sports for those who need one.  Rental cost will be $25 per person with two per canoe.   The availability of rental canoes, which come with paddles and life jackets, will be limited, so please register early for a spot.
Personal flotation devices (life jackets) must be worn, and all participants must register on a TCWP sign-in sheet.  The trip is an easy paddle, and will take about two hours at a leisurely pace.  Bring a lunch and water; sunscreen and a hat are recommended.
Please pre-register with Sandra Goss at 865-583-3967or sandra@sandrakgoss.com. We are also planning trips along Gallaher Bend and Haw Ridge at a later time.
---
National Trails Day Celebration features Pizza Party, Saturday, June 1

Fans and maintainers of the North Ridge Trail in Oak Ridge are invited to a Pizza Party on June 1 to celebrate National Trails Day at noon at the home of NRT Steward Ray Garrett.  Maintainers are encouraged to check their sections and be at Ray's at noon.  Fans who want to hike on the North Ridge Trail that day or to join the pizza party should contact Sandra K. Goss, 865.583-3967 or sandra@sandrakgoss.com.
---
Devil's Breakfast Table Hike and Trash Clean-up (TN Promise): Saturday, July 6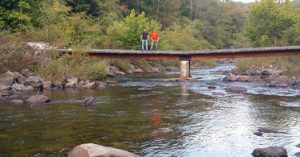 Join Obed Watershed Community Association (OWCA) and self-guided hike the Devil's Breakfast Table Trail while doing good for the environment by picking up trash alongside the river. Supplies will be provided, gloves, bags, grabbers, and buckets. You can even swim after in the Obed River!
Details to get to Devil's Breakfast Table (cell phone reception may cut out) https://www.cumberlandtrail.org/maps-and-guides/trail-segments/obed-wild-and-scenic-river/obed-river-segment/
Trailheads:The Daddys Creek Trailhead at Devil's Breakfast Table represents the southern terminus of the Obed Wild and Scenic River Segment. No overnight parking. Parking Lot is at junction of Otter Creek Rd and Hebbertsburg Rd. https://goo.gl/maps/3iamV3eLB2SyjSy77
The southern end of this section can be reached by entering the Catoosa WMA on Firetower Road. Take I-40 Exit 322, go north on Peavine Road/101 North for 1.8 miles to Firetower Road. Turn left on Firetower Road where you will see the high voltage power lines on your left. Firetower Road is a paved road for 3.5 miles and then becomes packed gravel when you approach the Catoosa WMA entry. The main roads in the Catoosa are graveled but suitable for passenger cars. Proceed another 11 miles after entering the WMA to Daddys Creek and the Devils Breakfast Table. (Note: Fire Tower Road turns into Otter Creek Road shortly after entering Catoosa WMA). Cross a sturdy 120-foot one-lane bridge with wood decking and no guardrails over Daddys Creek. Graveled parking is on the right with room for about a dozen vehicles at Daddy's Creek Trailhead. Trailhead is about 200 feet farther up the dirt road. The trail with two big boulders across from the parking area is not the CT. This area is also popular with people swimming and fishing during the summer months. (Note: Fire Tower/Otter Creek Road becomes Hebbertsburg Road after crossing the bridge over Daddys Creek.)
Alternative Route: If the bridge is closed due to high water or maintenance, you can take another route by I-40 Exit 322, go north on Peavine Road/101 North five miles to Fairfield Glade. Continue to a four-way stop and go straight. Soon afterwards 101 ends and road becomes Peavine. Continue five more miles and veer left on Hebbertsburg Road (there is no road sign). You will drive three miles to the Catoosa WMA entry where the road becomes gravel. Go one mile and turn left on Hebbertsburg Road (no sign) and drive 2.5 miles to Devils Breakfast Table and Daddy's Creek Trailhead parking.
Hosted by Obed Watershed Community Association and 7 others
---
Additional information on all TCWP activities may be obtained from TCWP Executive Director Sandra K. Goss at Sandra@sandrakgoss.com or at (865) 583-3967.
---