---
Whip-poor-will Outing – Saturday, May 26

State Naturalist Randy Hedgepath will lead an evening outing at Fort Loudoun State Historical Park, where we hope to hear whippoorwills. Randy says, "I will meet the group at the Fort Loudoun Visitor Center at 8 p.m. Eastern, and we will do a short walk there to listen for the 'early birds.' Some of the Fort Loudoun rangers may join us. We will then drive a short
distance to McGhee-Carson Wildlife Management Area to listen again, then make a 10+ mile drive to the Chota Village site for the evening's grand finale. We should be done by 9:30 to 10 p.m."
Participants can meet for carpooling in Oak Ridge at the Gold's Gym/Books-A-Million parking lot (at the end close to S. Illinois Avenue, near Salsarita's) by 6:30 p.m., or meet the group at the Fort Loudoun Visitor Center at 8. Some of us will have supper beforehand at Razzleberry's in Oak Ridge; if you'd like to join that group, contact Sandra Goss via email at Sandra@sandrakgoss.com or at (865) 583-3967. Mark your calendar!
---
National Trails Day; a hike with a twist on North Ridge Trail – Saturday, June 2 
All Oak Ridgers are invited to hike on the North Ridge Trail on June 2. The hike will cover three sections of trail which goes through forested land. The first leg will be led by North Ridge Trail Section Adopter John Jaruzel for a short (less than one mile) easy hike from the Wedgewood Access to Key Springs Road (see North Ridge Trail map at file:///C:/Users/Admin/AppData/Local/Microsoft/Windows/INetCache/Content.Outlook/3Z4UVFKY/NorthRidgeTrail%20(2).pdf.
The second leg of the hike (which covers two sections), led by Section Adopter Jimmy Groton, will pick up at Key Springs Road access, and head east to Delaware Loop (approximately 2 miles). Hikers should meet at the Children's Museum parking lot (461 West Outer Drive) at 9:00 a.m. and bring or wear weather-appropriate clothing, bug spray, sun screen, water, and (for people on longer hikes) lunch.
---
Discover Life in America, talk by Todd Witcher – Thursday, June 28
Todd Witcher, Executive Director of Discover Life in America (DLIA), will speak about All Taxa Inventories and other work of DLIA in a program cosponsored by TCWP and Advocates for the Oak Ridge Reservation. His talk will begin at 7:15 p.m. in the Social Room at the Oak Ridge Civic Center. Discover Life in America, a small nonprofit organization based in the Great Smoky Mountains National Park, is committed to funding the world's top researchers to work in the park, putting on programs to educate the public, and keeping data about species and ecosystems in a system accessible to governments, corporations, landowners, and conservation groups, to help them protect these resources even while pursuing their business goals. The All Taxa Biodiversity Inventory (ATBI) is a project of DLIA that seeks to inventory the estimated 100,000 species of living organisms in the GSMNP.
---
Kids in the Creek – Saturday, July 14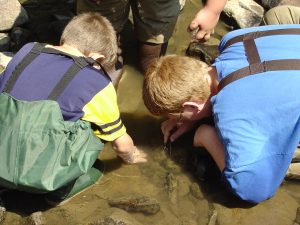 Looking for a fun and educational summertime activity for the kids? On July 14 TCWP, TVA, TWRA the Emory River Watershed Association and the Obed Watershed Association will co-sponsor a "Kids in the Creek" outing at Devils Breakfast Table on Daddy's Creek in Cumberland County, open to all kids who are rising third-graders or older. The event will start at 10 a.m. (Central time) with a welcome and safety talk, followed by two breakout sessions on fish and insects, and will conclude between 1:30 and 2:00.
Children must be accompanied by adults at all times; no unaccompanied minors will be permitted. Adults must be prepared to sign liability waivers on behalf of children. Participants should be prepared to get wet, and should wear shoes that are river-ready. Snacks/lunch are advisable, along with dry clothes, sunscreen, and bug spray.
Pre-registration is required for this event by Friday, July 6; to pre-register, contact TCWP Executive Director Sandra Goss at Sandra@sandrakgoss.com or at (865) 583-3967.
---
Discover Life in America Bioblitz at Worthington Cemetery – Saturday, July 14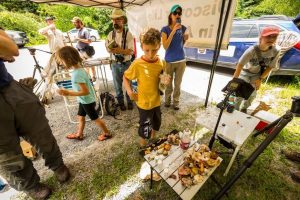 On July 14 TCWP will partner with TVA in a Discover Life in America (DLIA) "Bioblitz"at Worthington Cemetery in Oak Ridge. A BioBlitz is an event in which the public is invited to help with plant and animal identification. The event's organizer, Melinda Watson of TVA Natural Resources, said Worthington was selected because of its unique and varied habitats, including a cedar barren, native warm season grass meadow, hardwoods, marsh/swamp, hemlocks, etc.
Each participant needs to have access to a smartphone, tablet or a camera with GPS capability.  After downloading the iNaturalist app, participants will join the TVA/DLIA Worthington Cemetery online event (found in INaturalist using the search feature).  During the event participants will photograph plants, insects and other animals using their device.  The day of the event there will also be scientists available to help with species identification, confirm the plant or animal's name, and answer any questions. "This process gives TVA an idea of what plants and animals are in the area, and gives the general public the opportunity to be citizen scientists for the day," Watson said. "The really cool thing about a BioBlitz is that you're not limited to the one day of the event; once you have the app, anytime you visit Worthington Cemetery you can upload photo observations – the on-line scientists will help you with identification."
Discover Life in America (DLIA), led by Executive Director Todd Witcher, is working with TVA to organize and host the event, and will have some specialists onsite to help with plant and animal identification. They will also provide butterfly nets, insect collection containers and other tools to make this a fun excursion for the family.
The BioBlitz will begin at 9 a.m. and will run through approximately 3 p.m. Participants are asked to bring a sack lunch.  For more information, contact Todd Witcher at todd@dlia.org.
---
Additional information on all TCWP activities may be obtained from TCWP Executive Director Sandra K. Goss at Sandra@sandrakgoss.com or at (865) 583-3967.
---