---
Garlic Mustard Pull Weed Wrangle®, Saturday, April 20 (was postponed from original April 13 date)

TCWP and Greenways Oak Ridge will have our Garlic Mustard Pull Weed Wrangle at the Wildflower Greenway in Oak Ridge from 10 to noon on Saturday, April 13.
The Greenway behind Oak Ridge's Rolling Hills Apartments (formerly known as the Garden Apartments) is one of the best wildflower trails in Anderson County, but it is threatened by garlic mustard, a very invasive exotic that crowds out native plants.  TCWP and Greenways Oak Ridge have been making headway  in recent years in ridding the trail of this harmful plant.  Volunteers are needed to help with the effort again this year.
We will meet at 10 a.m. at the rear parking lot (near the woods) behind 101-135 West Vanderbilt Drive.  Wear sturdy shoes and weather-appropriate clothes, and bring water, food/snacks, and a digging spike or similar tool if you own one.  Naturalist Kris Light will be on hand to help with wildflower identification.
---
Obed/BSF Science meeting: Wednesday, April 24
The public is invited to spend a day with scientists who have been conducting research at the Obed WSR and Big South Fork NRRA.  This science meeting will take place on Wednesday, April 24, 2017, at the Historic Rugby Visitor Center (1333 Rugby Parkway, Rugby, Tennessee).  For more information, call Etta Spradlin at 423.569-9778.
---
North Ridge Trail-Walker Lane Wildflower Walk with TN Native Plant Society, Sunday, May 5

This is a joint outing with the Tennessee Native Plant Society.  We will walk down the back side of Black Oak Ridge to a superb spring wildflower area along a lovely spring-fed stream. Flowers to be seen, depending on the spring season timing, include celandine poppy, native pachysandra, Vasey's trillium and many more. The trail is rough and steep in places; we can help each other in these spots. The distance is about two miles round-trip.
We will meet in the Oak Ridge Children's Museum parking lot at 1:30 p.m. Bring water and bug spray. Reservations are not required, but are helpful for planning and for sending updates or cancelations.  Contact Larry Pounds at 865-705-8516 (cell).
---
Stinging Fork Falls to Soak Creek Wildflower Walk with TN Native Plant Society, Saturday, May 11
(photo courtesy of Ben Pounds)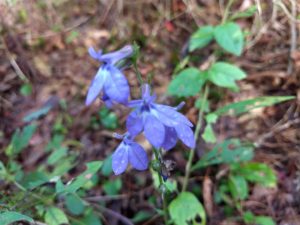 This section of the Cumberland Trail, completed in fall 2018, will be our third joint spring outing of TCWP and the Tennessee Native Plant Society. Which spring flowers we will see is hard to predict, but the route is definitely scenic. The trail is up and down, with many steps. Total walking distance will be about six miles.
We will meet for carpooling at 9 a.m. at the Gold's Gym/Books-A-Million parking lot in Oak Ridge (at the end close to S. Illinois Avenue, near Salsarita's), or meet at the Rocky Top/ Exxon/ MacDonald's on US 27  in Spring City at 10 a.m. We will caravan from the Exxon to the Lower Piney River Trailhead to start a shuttle, leaving some cars there. We'll then carpool to the Stinging Fork Falls Trailhead; from there we'll hike back to the Piney River Trailhead. Bring water, a lunch, and bug spray.
Alternatives: Participants are welcome to head back early to the Stinging Falls Fork Trailhead; they will need to have a car there, or otherwise will have a wait until afternoon when the shuttle is completed. Those taking this alternative could drive back from the Stinging Fork Trailhead to the Piney River Trail Head and walk in along the flat trail by Soak Creek to meet the rest of the group as they reach Soak Creek.
Reservations are not required, but are helpful for planning and for sending updates or cancelations. Contact Larry Pounds at 865-705-8516 (cell).
---
Freels Bend Canoe/Kayak Outing: Saturday, May 18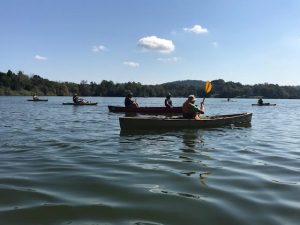 Join TCWP and Advocates for the Oak Ridge Reservation (AFORR) for this second in a series of scenic paddle trips in the Three (Four) Bends "Blueway" along Melton Hill Lake. We'll meet at 9 a.m. at the Pumphouse Road cove and paddle out and downstream on Melton Hill Lake, along the shore of Freels Bend in the scenic Three Bends Area.  We'll stop to view the historic Freels Bend cabin and also enjoy several other quiet and scenic undeveloped inlets, probable wildlife sightings, and much greenery.  The trip will end at the Clark Center Park boat launch area.  Transportation back to Pumphouse Road will be provided.
Participants can bring their own canoes or kayaks, or TCWP is arranging to rent several canoes from River Sports for those who need one.  Rental cost will be $25 per person with two per canoe.   The availability of rental canoes, which come with paddles and life jackets, will be limited, so please register early for a spot.
Personal flotation devices (life jackets) must be worn, and all participants must register on a TCWP sign-in sheet.  The trip is an easy paddle, and will take about two hours at a leisurely pace.  Bring a lunch and water; sunscreen and a hat are recommended.
Please pre-register with Sandra Goss at 865-583-3967or sandra@sandrakgoss.com. We are also planning trips along Gallaher Bend and Haw Ridge at a later time.
---
National Trails Day, Saturday, June 1

Details to Follow
---
Additional information on all TCWP activities may be obtained from TCWP Executive Director Sandra K. Goss at Sandra@sandrakgoss.com or at (865) 583-3967.
---