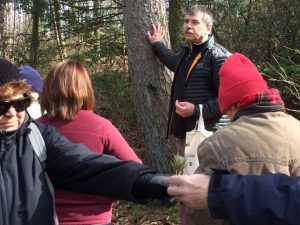 A great crowd joined TCWP's very own Jimmy Groton on a guided walk, "Identifying Trees in Winter", at the Obed River Park in Crossville, TN on Saturday, February 9th.
Jimmy studied forestry as an graduate and undergraduate in college and taught Dendrology in graduate school at UTK. He works as an environmental scientist/ecologist delineating wetlands and streams, endangered and threatened species surveys, and environmental impact assessment. His 39 years of experience give him a wealth of knowledge to share about identifying native plants in the winter!
The event was hosted by the Obed Watershed Community Association and co-hosted by TCWP, Cumberland County Beekeepers Association and the Emory River Watershed Association.