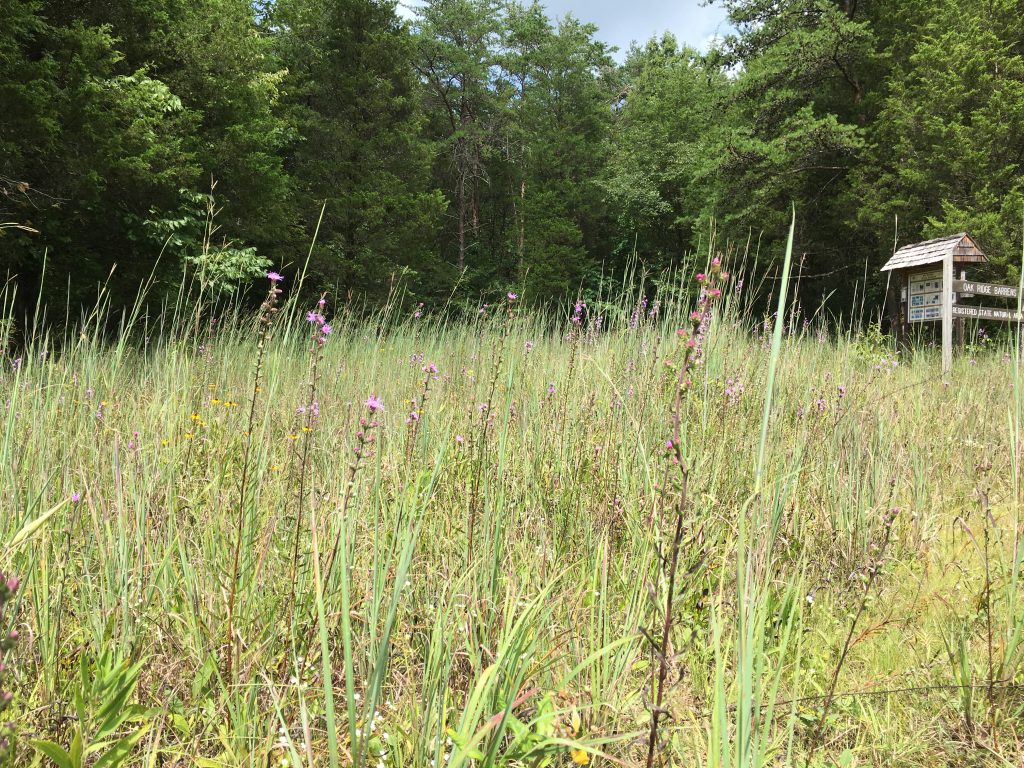 Background
In 1998 TCWP registered the Oak Ridge Cedar Barrens as a state natural area by agreement with the City of Oak Ridge and the Tennessee Department of Environment and Conservation (TDEC). Due to its ecological history, the Barrens contains preserved areas of native prairie. At least 3 rare plant species grow there in abundance. Currently, there are three annual workdays at the Barrens, focusing on the removal of invasive pest plants, and encroaching native woody plants.
TCWP has managed the Barrens for over 30 years. The 2014 Oak Ridge Barrens Natural Area Management Plan outlined the need for comprehensive biological surveys to evaluate the site's importance and serve as a baseline and guide for future management. The plan also included a goal to publish a paper about the results of the surveys.
The local domain of the National Ecological Observatory Network (NEON) is partnering with AGU's Thriving Earth Exchange (TEX) program to provide a framework for project collaborations between communities and scientists. It is the perfect opportunity to move forward with the management plan and utilize this exceptional area.
The Project:
Working with a volunteer scientist, the TCWP will plan and implement comprehensive biological surveys and inventories of the plants and animals present in the Oak Ridge Cedar Barrens Natural Area in 2022. A major focus will be on the plant species, but other biological surveys (bird, insect, herpetological) would only increase the value of this effort. The resulting data will be compiled and analyzed according to standard scientific methods to serve as a baseline for future survey comparisons, develop management plans, and provide the foundation for a publication in a scientific peer-reviewed journal.
Effective monitoring and survey techniques will be developed over the 2021-2022 winter season to be implemented in 2022. The data will be collected by volunteer specialists with assistance by volunteer students and other interested persons in the surrounding area.
For more details, go to https://thrivingearthexchange.org/project/oak-ridge-tn/
Scientist Wanted:
We are looking for a scientist who is experienced in designing and conducting comprehensive plant surveys and compiling the resulting data. We think this would the perfect opportunity to involve a lab with many interested students. For the purposes of this project, we are only interested in a broad statistical analysis of the data. However, we are open to this becoming a student project with further studies in the site.
We are also very interested in adding other biota surveys of the study site (i.e. bird, insect, herp, etc.). Any assistance in setting up a robust survey technique for any additional biota would be welcome.
In addition, while not within the scope of the project, we would like someone who may be interested in a scientific publication of the data.
Desired skills and qualifications

Past experience with designing and conducting biological surveys

Should be local to the region and able to visit the site in-person

Experience and/or desire to participate in community education, outreach, and engagement

Strong listening and collaboration skills

Relaxed, easy-going personality with a good sense of humor

(Optional) Experience with prairie and cedar barren/glade species of the Southeastern US
Thriving Earth Exchange asks all scientific partners to work with the community to help define a project with concrete local impact to which they can contribute as pro-bono volunteers and collaborators.
Interested in volunteering as a scientist?  Contact Margaret Cumberland mcumberland@battelleecology.org
We will be needing volunteers next year to help with these surveys, so look out for more opportunities in 2022! Margaret Cumberland